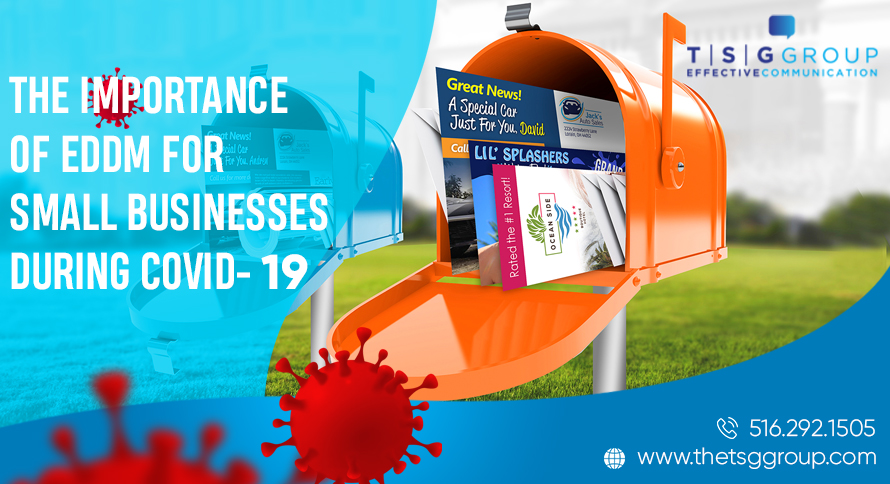 The entire world is talking about Coronavirus (COVID – 19). This crisis is impacting both personal and professional life around the world. Even many small businesses have been shut down because of this crisis. If you don't want to be one of them, use an EDDM (Every Door Direct Mail) campaign for your business.
As a small business owner, if you are wondering how your business will fare financially during this time, the solution is EDDM. Marketing creativity is needed at this time to keep current customers up-to-date while trying to market to a new audience. EDDM is a cost-effective way that can help you reach relevant audiences easily during the Coronavirus crisis when everyone is at home.
What is Every Door Direct Mailing?
Every Door Direct Mailing (EDDM) is a bulk mailing option offered by the United States Postal Service. EDDM is best for businesses that want to use geo-targeting. It allows your business to reach potential customers without their address. You just need to choose the mailing routes you feel would benefit your business and your mail pieces will be delivered to every active address on your designated route.
Is EDDM right for your business during the COVID-19 crisis? If you are a local or small business, the answer is yes! Creating a successful EDDM marketing campaign can be one of the most effective ways to get your company's message in front of current and new customers. From restaurants and Pizzerias to retail stores and real estate agencies, every local and small business can benefit from Every Door Direct Mailing.
How to Use EDDM Properly?
As a small business owner, you have the opportunity to reach your target audience with EDDM during this crisis. You just need to get your message physically into the hands of potential customers and need to be creative. During this time when everyone (all around the world) is at home to control coronavirus, it's important to keep customers up-to-date on how you are adjusting your services in a way that makes their lives safer and easier.
Top 8 Every Door Direct Mailing Facts
81% of recipients read or scan their mail daily
The majority of clients who receive new business within a 3-mile radius are Realtors.
It's a proven affordable marketing tool.
There is no limit on how many postcards can be sent
Postcard postage is 21 cents each.
No need to download a mailing list. Choose from USPS certified zip code(s) and mail routes.
Common uses for Realtor EDDM postcards include open houses, just sold postcards, industry statistics, local resources, and more.
The Importance of Using EDDM for Small Businesses During COVID-19
No matter what and when you are trying to promote, Every Door Direct Mail is a great way to boost your business. If you are still unsure why you should use EDDM for your small business during this crisis, here are 4 convincing reasons.
EDDM Increases Revenue and Sales
One of the most important benefits of EDDM is it increases revenue and sales. Every Door Direct Mail allows you to reach existing and new customers with promotions, deals, and information that will generate ROI. You can saturate neighborhoods with your advertisements and your mailing goes straight into the hands of potential customers.
EDDM Promotes Special Events or Promotions
If you are looking for an effective way to promote a fundraiser or a special event during COVID-19, consider a successful EDDM campaign. It enables you to reach local clients and a simple way to promote an event or special offer. Make sure you keep the message short and to the point. This will help build your brand and allow your business to be a household name in the community.
EDDM Introduces New Products and Services
Every Door Direct Mail is a great way to ensure your customers stay with your business during this coronavirus. This EDDM campaign allows you to introduce new services and products that they are interested in. Using a successful Every Door Direct Mail is a great way to generate buzz and an effort to differentiate your business from competitors.
Hopefully, you have now understood why using an effective EDDM campaign for your small business during the COVID-19 crisis is beneficial. If you want your business to connect with your local customers with EDDM, get in touch with The TSG Group.
Get Effective EDDM Mailing Services From The TSG Group!
Looking to cover an area with your message? If so, promote your business and get a better return on investment with our reliable EDDM mailing services in Manhattan NY during COVID-19. At The TSG Group, we make Every Door Direct Mailing fast, easy, and profitable so that you get effective results at the end. To know about other effective marketing solutions, speak with one of our team at 516-292-1505 today!
Stay Home & Stay Safe!