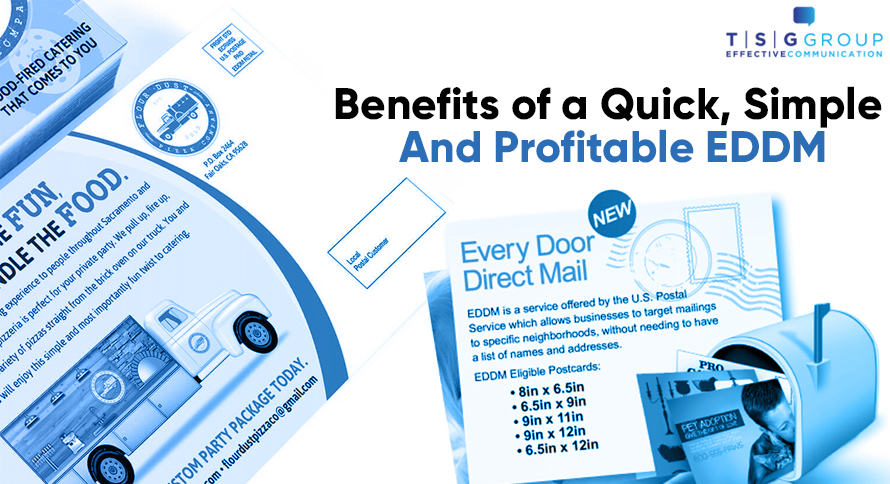 If you want to promote your small business in your local community, EDDM is the best marketing solution for your business!
EDDM (Every Door Direct Mail) is an affordable promotional or advertising method provided by the United States Post Office. Using this advertising method, businesses can easily reach their targeted customers in a specific area without going over their budget. The program distributes printed ad material to every home with selected routes. Many businesses use Every Door Direct Mailing Service in Suffolk County NY to target new customers and grow their business.
The TSG Group offers a complete line of our unique EDDM postcards and mailers. You can give your campaign a boost with our reliable Every Door Direct Mailing Services in Queens NY. When it comes to targeting a certain mailing area with promotional advertising, A EDDM is a very cost-effective, simple and quick way.
How Does Every Door Direct Mail Advertising Method Work?
EDDM allows businesses to focus on their print marketing and content while the postal service handles distribution. With this advertising platform, you can save your time and money to focus on your marketing campaign, customer service and sales. No matter the size of the business, you can reach your customers in specific areas by using mail delivery route information supplied through Every Door Direct Mailing Services in Suffolk County NY.
What Are The Features Of EDDM Advertising Service?
Here are some features of these programs that will help build your business and gain you leads.
Target Customers: You can saturate neighborhoods with your ads, and your mailing goes straight into the hands of prospects.
Flexibility: EDDM offers a range of sizes, which makes it ideal for any types of content, from a short sales announcement to a detailed product story.
Options: You can choose from a variety of formats such as maps, calendars, postcards or other promotional materials.
More Bangs For Your Buck: With Every Door Direct Mail, you can include coupons, menus, store maps and many more to bring relevant customers to your door.
4 Benefits of Every Door Direct Mail Printing
Increased Local Business and Consumers Reach
While digital marketing methods embrace localization, Every Door Direct Mailing Services in Suffolk County NY already reaches the potential clients surrounding your business. With internet marketing, your contact list includes people from every location. But, with EDDM, you know they are close to you as you select the route. As these over sized postcards can reach every door on the route chosen by ZIP code, you can reach businesses as well as consumers, making sure your message is in their hands. With this service, you can build your brand and even expand your reach.
High Return on Investment
EDDM gets a higher return on investment than other promotional methods. Why? Well here are three reasons:
People move and are no longer your target audience. But when you use Every Door Direct mailing services in Queens NY, you will reach the new person at the location.
People prefer to buy from them that share a common ground. With EDDM service, you can target the neighborhoods around your business and give them that common ground.
Every Door Direct Mailing Services in Queens NY reaches the people that physically can visit your office or retail location.
Local Area Marketing
For Every Door Direct Mail services in Suffolk County NY, there is no mailing list required which saves money. This method operates by the mail carrier who takes the message to every household along a specific route without the need for their addresses. It allows you to focus on getting your ads out to the entire community and into the hands of consumers more efficiently.
Easy To Target/Set-Up
EDDM can be easily targeted and set-up. And this is one of the best benefits of this marketing method. While these campaigns are geographically focused, it can be directed to customers who are most likely to act on the advertising. Besides this, it only takes a few steps to put together. You just need to print your postcards or brochures, bank them into bundles with facing slips and deliver them to the postal service with your payment. After that, the USPS will handle the rest.
So, these are four benefits of a simple, quick and profitable EDDM advertising method. If you want to enjoy these benefits with EDDM, make sure you choose the expert for Every Door Direct Mailing Service in Suffolk County NY.
Get Help From The TSG Group For EDDM Service!
If you are looking for guidance because you just moved forward into your EDDM campaign, consider The TSG Group for reliable Every Door Direct Mailing Service in Queens NY. We have many years of experience in direct mail marketing, so we can find effective solutions to grow your business. For more information about how we can help grow your business through EDDM, contact us today! We are dedicated to supporting our clients' decision through the process of gaining leads for their business.