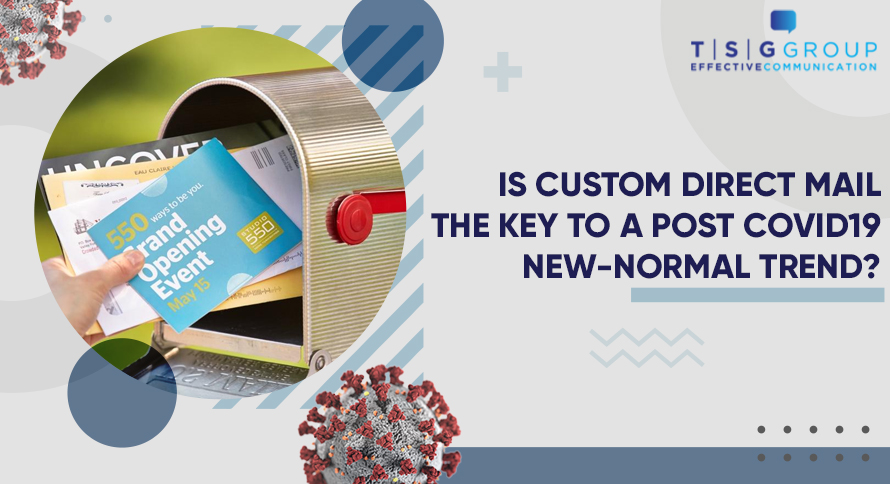 2020 has become a reality that nobody seems to believe in the present and couldn't have seen coming in the past. With the outbreak of this pandemic due to the Coronavirus, earth has never felt stranger and things have never been so different.
Think about it, we are the only generation that has seen a worldwide lockdown being put into effect.
As the world comes to terms with this new social distancing society, the odds are stacked against those who are relying on business to come to them.
The New Normal –
With social distancing becoming an effective and indispensable measure, brands must adapt to this new post-Covid19 world.
While your old methods might have caught your picky customer off-guard, you will need something more enticing to offer them that they can read from their quarantining comforts and get them to act.
Custom Direct Mail to Your Rescue –
It is not always easy to offer your best services to a client or customer who's at a distance. But since distance has itself become the new trend, custom direct mail is an easy way to save time and seal the deal.
We've tried our ways out to fight the menace that's out there, sitting and working from home has worked for some of us folks! But,there's no shying away from the fact that effective communication in these testing times has to be the way forward and you can do it best by delivering your ideas right through the mail.
Use Your Time to Reach Out to Your Most Favoured Individuals –
While the lockdown initiative was fun to begin with, soon we found ourselves running into the reality that business must continue for us to survive. Sharing content and reaching out to your trusted resources and closest aids is the key to thrive. No more than ever effective communication is critical to growing your business and mail is a key part of that communication.
With technology being the key to 'The New Normal', your goal must be to maximize your reach out to all your potential clients. Tap in to the world of effective communication with the renowned TSG Group and explore a whole new dimension of possibilities of  direct mail with our our advanced client targeting software.
Community and Businesses Side by Side – With Custom Direct Mails from The TSG Group
Superior and custom direct mail marketing has not only been the saving face for marketers, when their unwanted and utterly-boring emails were building the spam count of the client's inbox, it has also been a boon to this generation that is now being trained to avoid physical gathering and interaction.
As your end to end solution for everything mail, you can save time and avoid the middleman by suitably opting for tailor-made strategies that'll improve your ROI and produce the results you were hoping for.
A Compelling Offer with Response Tracking and Much More –
With measureable results and a better ROI than digital ads, direct mail gives your business credibility and results that digital campaigns cannot.
New tracking and attribution methods will only streamline your campaigns and delivery to the point where you just sit back and relax while thinking about the next big move up your sleeve.
As delivery and results matter, we've been the fastest growing custom direct mailing company in Nassau County, NY and that has all to do with our out-of-the-box comprehensive approach and understanding of the end to end requirements needed for successful campaigns.
Data that gets the job done-
The TSG Group prepares custom direct mail campaigns by using a combination of best industry practices, advanced data acquisition software with a variety of data filters. This only ensures that your target lists are meticulously furnished for your very needs.
We've got the TSG Commitment –
Effective mail campaigns require a core group of professionals that can expertly understand the clients needs from various industries and business ends. It shouldn't be a one-time gimmick followed by duds.
The TSG Commitment as the leading custom direct mailing company in Nassau County we are THE SOURCE for political direct mail, dental and healthcare-oriented mailings, real estate advertising and restaurant direct mail.
We have the design sense and the technology to drive your idea forward and with our custom direct mail, you will reach your target audience.
Ready for more customers? Start drafting your ideas into that email today. We're waiting!