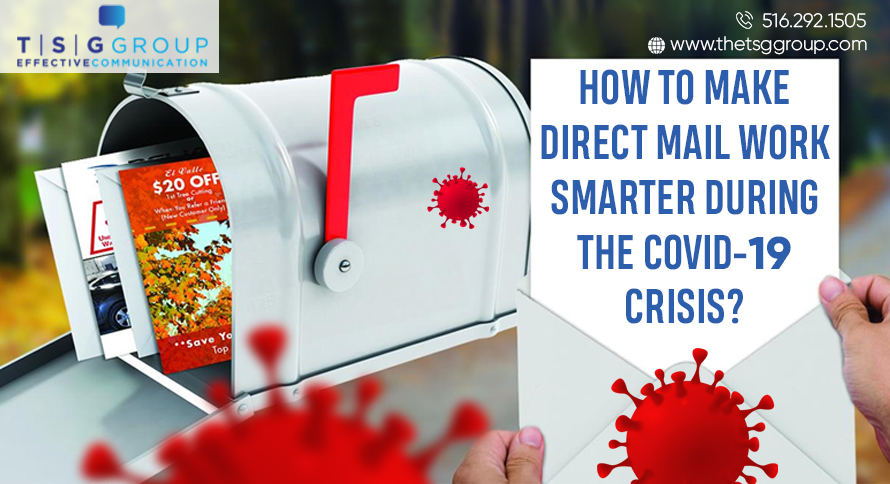 The entire world is dealing with unforeseen challenges due to COVID-19. During this time of crisis, it can be hard to figure out how best to market your products or services to customers, but not impossible if your customers are consumers. For that, direct mail is still an incredibly effective way to reach them. A few people have expressed concerns about virus transmission from the mail, but the WHO and CDC both say that no coronavirus transmission has occurred from a newspaper, magazine, letter, or package. Sending your mail pieces to customers and prospects is still considered safe. Now the big question is how to make direct mail work smarter during the COVID-19 crisis?
Here are 3 best ways to make your direct mail program work smarter during Coronavirus.
Keep the Message Relevant
As you know we are in a global crisis, your communication should reflect this fact – otherwise your message will seem out of touch and irrelevant. Make sure your message is authentic, timely, and relevant to your consumers.  That would be a missed chance to demonstrate how your business provides real-world solutions in a time of great need. How do you do this? Simple ways include avoiding using terms that involve touch and closeness. Instead, keeping your message about how your product or service will help the prospect out. While the primary objective of direct mail is to market your products or services, it is also an opportunity to stay purposeful in your mission and help those in crisis.
Use Empathy to Market to Your Customers
No matter what your industry is, customer experience revolves around a person's needs and desires. Whether your audience is made up of engineers, teachers, or healthcare patients make sure you show sincere empathy for what your customers are going through. An empathetic mindset helps marketers connect with customers on an emotional level, especially during this time when the whole world is dealing with a crisis. Times are tough, and you don't want to come across as insensitive. Consider creating direct mail that convents optimism, hope, and humanity.
Make an Effective Plan
When setting up your mail piece, consider how it can help people. If you have a product or service that already will help prospects during the pandemic, outline that without funding on Coronavirus. If not, then find a way for the mail piece to educate, entertain or inspire prospects into action.
Another way you can help customers and prospects at this time — and generate some good PR — is to find ways to help your community, as well as encouraging mail recipients to do the same in their communities. Creating a mail campaign with a positive message and needed products, services, or information will be well received and responded to.
It also is important to consider your list. People on your list are better targets to reach out to than others right now. Segment them out and send them. This is not the time for a one-size-fits-all campaign. Sensitivity and relevancy matter right now. The best direct mail is sending the right offer to the right person at the right time.
In a crisis, your customers want you to be reliable and credible. Provide them with required products or services so that your mail is relevant and appreciated. Keep mind that how you communicate contributes to how your brand will be remembered. This will position you now and in the future as a company that your customers and prospects want to do business with.
Get In Touch With The TSG Group!
Whether you are new or experienced in a direct mail marketing campaign, it is beneficial to get in touch with The TSG Group for Direct Mail Service in Nassau County during COVID-19. With direct mail, we know what motivates customers to act and how to build a successful campaign during this crisis. By combining advanced data with new tracking and attribution methods, direct mail campaigns have become even more powerful marketing tools.
If you are looking for the direct mail service provider in Nassau County to market your products or services during COVID-19, contact us at 516-292-1505!