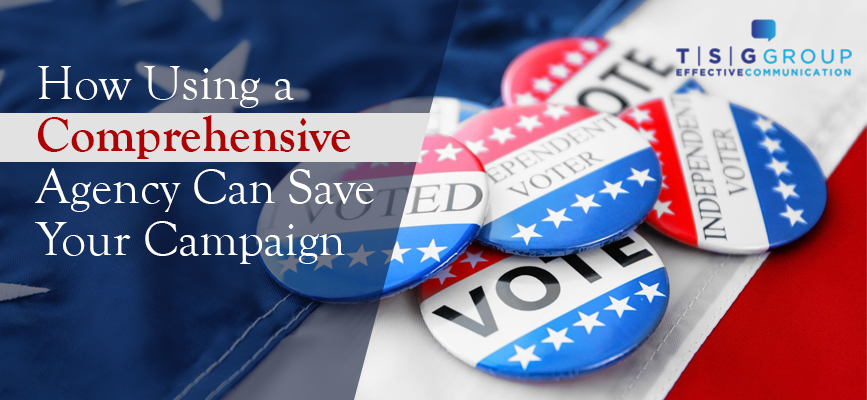 Winning elections is about 2 things, delivering an effective message and getting voters to act on it. The TSG Group helps you polish your message with our design team, then amplifies your reach, saves you time and increases voter action for your campaigns.
Sounds too good to be true right? It's not! Find out why more campaigns are choosing us every day. The secret is in our comprehensive team approach to your campaign, our designers work closely with our in-house union print production team to ensure a seamless workflow. This result is mail and lit being ready the day after it is approved…getting you in front of voters ahead of your opponent.
As all media has evolved so has print, and so has The TSG Group. All of your mail can now be personalized to individual voters garnering greater attention. Even more exciting is that now we can also deploy your social media campaigns to the addresses you are mailing to. This exciting combination allows you to send a social campaign first to help build awareness and then send your print piece to follow. We have done the testing as the difference in response has been drastic.
Political Mailers
What exactly are political mailers? They are affordable postcards that publicize political candidates, campaigns, and ideologies. We offer two unique political mail marketing services Targeted Direct Mail and EDDM. EDDM and Targeted Direct Mail can both be effective when used correctly. EDDM is best when you want to mail to every house on the block in a certain area. Targeted Direct Mail as the name implies is best when you have a mailing list based on a specific demographic, like all Democratic voters who voted in the 2016 and 2018 elections.
Targeted Direct Mail
Using your targeted mail list, we personalize your communications with voters by individualizing each mail piece with the information of your choosing. Studies have shown that communications that address voters by their first name get a significant boost to their engagement and retention. Our data experts also know the best way to maximize your postage and will always get you the lowest postage possible allowing your campaign to mail more for less.
Share & Mail
This exciting new tool now allows campaigns to confidently deploy social media campaigns to everyone on their mail list. The combination of print with social media in a coordinated campaign has shown to drastically reinforce messaging with voters. This same psychology is being used by big brands everywhere as part of their retargeting efforts. Share & Mail also offers you the ability to send print media following a visitor's action on your website. Say they went to donate but didn't, Share & Mail automatically notices this and tells our system to mail the person a postcard reminding them how meaningful donations are for your campaign.
EDDM
EDDM also called Every Door Direct Mail is a special program where the post office allows you to send very large postcards (8.5"x11") for very cheap postage (21 cents each). But there is a catch, you must send the postcard to everyone on their postal route. So, there is no need for a mailing list, you tell us the geography you are looking to cover, and we will determine the appropriate postal routes and let you know how many voters are in that universe. We handle everything from paperwork to bundling then we deliver them directly to the post office for delivery to your voters' hands.
Palm Cards, Doorhangers and Campaign Flyers
When done right palm cards, doorhangers and flyers can make a great impact at rally's and train stations or when canvassing to ensure your message resonates with voters. The direct contact with your message and the retention that print allows is the most lasting form of connection we have in a digital age. Studies show that print consistently has a better retention rate than digital communications.
Our designers understand what works and how to make the best impression with voters. 10 years of experience working in elections has taught us a lot, put our wealth of knowledge to work for you.
Who have we worked with?
We have worked with campaigns large and small from the local level to Congressional campaigns. If you are looking for the best Political Printing Company in Manhattan, or Political Printing Services in Nassau County, Suffolk County or Political Printing Services in Nassau County reach out to The TSG Group, the comprehensive solution for all your printing & campaign needs. We've helped campaigns effectively communicate their message across Nassau County, Suffolk County, Manhattan, Brooklyn & Queens and beyond. Partner with a team that cares about your campaign as much as you do.