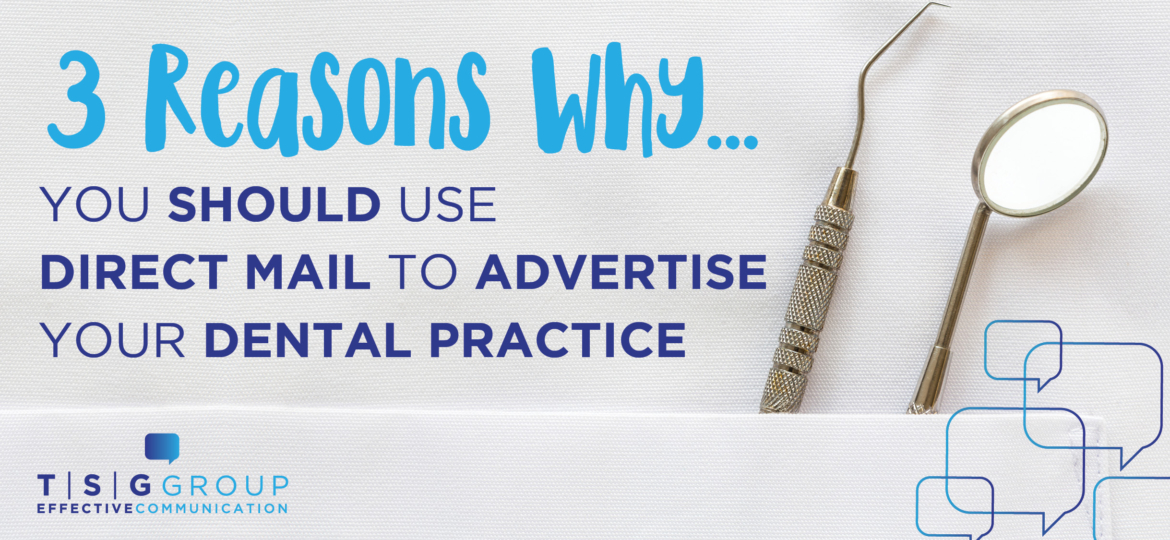 3 Reasons Why You Should Use Direct Mail to Advertise Your Dental Practice
Advertising a dental practice may seem uncomfortable to new dentists. After all, as a medical professional, you can't push unneeded services onto potential patients. However, if you follow the American Dental Association's advertising standards for how to advertise your dental practice, you can stay within the boundaries of good taste when it comes to ethical advertising. Businesses, non-profits, and many other organizations turn to direct mail advertising to promote themselves. Here are three reasons why you should consider using direct mail for dental practices:
Other Practices Are Using Direct Mail Successfully
Dentists have been using direct mail as an advertising medium to target local clients and build their practices for years. Direct mail has become part of the dental landscape. The reason is exactly what you'd expect. Dental direct mail advertisements work to increase clientele at a very reasonable price. According to the Direct Mail Association, a well designed dental direct mail campaign can not only pay for itself, but can improve client retention.
One important thing that dental practices who succeed with direct mail campaigns consistently do is to never treat a mailing as a one-off advertisement. Sending a follow-up campaign to attract additional clients helps improve your bottom line as well as expose your practice to individuals that have recently moved into the areas you are targeting. Keeping your dental practice in the minds of your current clients with direct mail cards can help improve your chances at increasing word-of-mouth referrals as well.
Explaining Your Services (And Announcing New Ones)
For the average person who doesn't know much about dentistry, the services that you offer can be very confusing. While most people are comfortable with the idea of an exam, x-ray, or cleaning, procedures like extraction, root canals, dental bridges, and even fillings can get daunting. Even more confusing is if you choose to expand to more advanced cosmetic procedures. The general public simply cannot keep up with the advances made in dental science. That's why it's up to you to help them. Offering a description of your service along with with your unique value proposition can make your dental direct mail postcards stand out in people's minds. Explaining the process, even with something as simple as an exam and a cleaning, can put people's minds at ease and establish yourself as a trustworthy member of the community.
Dental Direct Mail Is Trackable
Tracking your results from direct mail marketing is extremely simple. If you are testing your marketing efforts in one neighborhood against another, or an age group against another, customizing the offer to each of them can help you determine where you should focus more of your marketing efforts in the future. For example, if you use a direct mail campaign to send out dental postcards to three groups of people based on age, using a separate coupon code can help you track exactly who is more likely to respond to your marketing outreach. Unlike many forms of marketing (like television or radio advertisements) each mailing list can be customized so you can gauge the feedback to your dental postcard campaigns.
Conclusion
Direct mail marketing for dentists is an inexpensive way to grow your practice. Dental direct mail postcards have a high chance of being read, kept, and acted upon. Working with an experience direct mail provider can boost your dental practice even more. Using a service like List Locator to narrow down your mailing list to the neighborhoods, demographics, and even income brackets that you're interested in servicing can keep your costs low and your return on investment high. The wonderful thing about being in a dental practice is that everyone needs a dentist and you never know who is looking for dental services. Reach out to those people who need your help and maximize your client base.